Joint pain and aches are not only bound to age, but they can also be triggered with different health problems such as arthritis, lumps and other chronic problems. Some people can find relief from pain killer and other kinds of anti-inflammatory medicines, but most of these (baring few exceptions) medicines tend to have an ill effect on the body in the long run. Read on to find herbal remedies for joint pain, which if adopted, can provide satisfactory results in the long run
In contrast to medicines, using natural ingredients to "cure pain and stiffness" in the joint can be really helpful (without any harmful side effects). Of course clinically proven products with a mixture of organic and chemical ingredients too can be effective but having some information on herbs can go a long way in choosing the right supplement or treatment.
Herbs, healthy diet and exercising can be three great ways to relieve people from joint pain. We have listed below some finest herbs that can really help in joint pain relief.
Being an anti-inflammatory herb, ginger is widely used in Ayurvedic medicines, manufactured in many parts of the world today. Ginger comprises of zingibain - an anti-inflammatory enzyme, and has been tested as a great herb for decreasing pain and inflammation caused in the joints by painful medical conditions such as rheumatoid arthritis and/or osteoarthritis.
Cayenne is another herb that helps in relieving patients from mild to excruciating joint pains. Cayenne pepper is a blood circulatory stimulant – it regulates blood flow and makes the arteries strong. Cayenne also contains pain relieving substances that helps counter the problems of joint pains.
Found majorly in China and India, Boswellia is one of the finest herbs for the treatment of joint pains. Boswellia can be used as cream or it can be taken orally; it basically reduces inflammation in the joints and helps in preventing the degeneration of connective tissues which can cause pain in the joints.
Gotu Kola has been in use for repair of connective tissues since time immemorial. Along with the ability to prevent degeneration of connective tissues, Gotu Kola also works as an "anti-inflammatory herb". It also helps in strengthening collagen in the body joints which allows it to improve the joints' responsiveness to stress, thereby eliminating the possibility of painful sensations.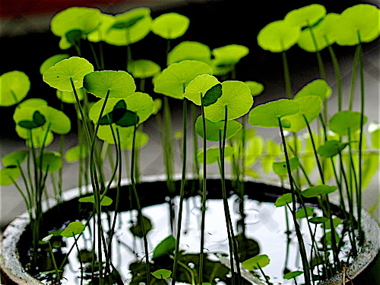 Flaxseed is one of the finest natural sources of Omega-3 fatty acids, the fatty acids responsible for a "strong immune system", capable of fighting back numerous bacteria and infections. Omega-3 also helps with its anti-inflammatory properties, which makes it a really good herb for joint pain relief.
"
Ever since we have known Nettle leaf, it has been used in Ayurvedic treatment of Arthritis. Nettle leaf helps in blocking the degeneration of connective tissues and cartilages. Nettle leave extracts have positive effects on the treatment of rheumatic
or
osteoarthritis.